2019 Ram 1500 Trucks for Sale in Jackson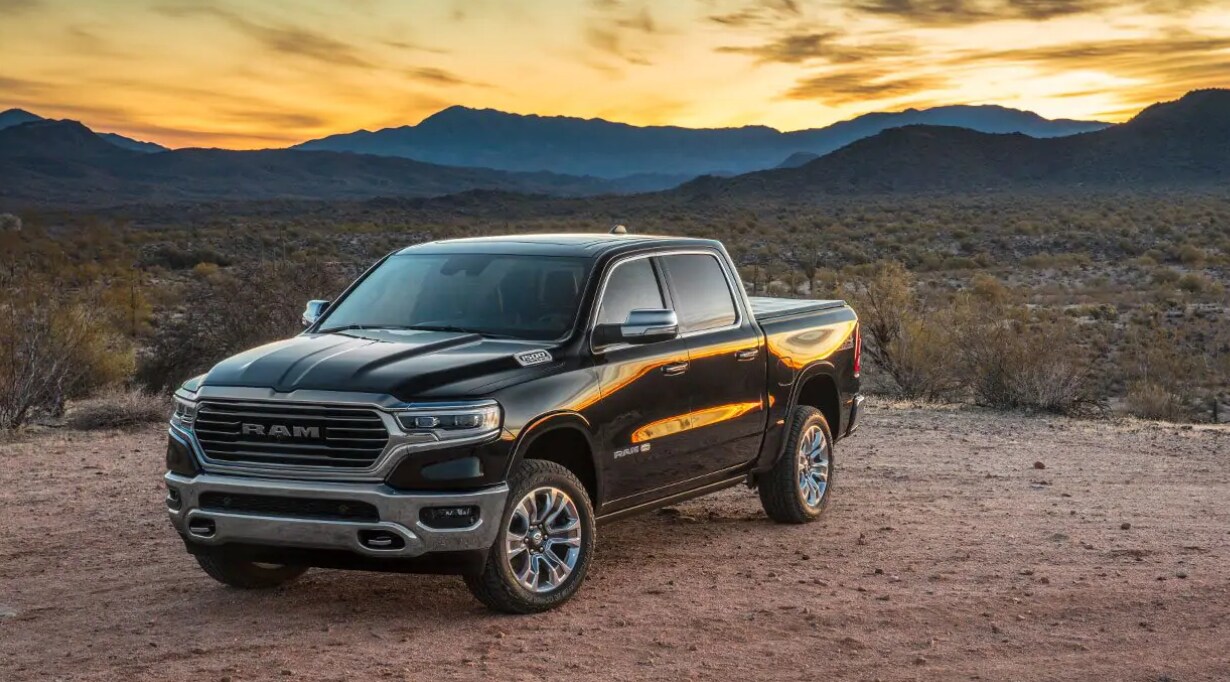 In the United States, the pickup truck is more than a vehicle-it's a lifestyle. It's the way we get to work, do our work, and safely transport our families between jobs. That's why we need a truck we can count on-no matter the weather, road conditions, or load requirements. And when American's think trucks, they think Ford F-150, Chevy Silverado 1500, and 2019 Ram 1500. In the last year, Americans have purchased about 2.3 million trucks, but it's not only because of our lifestyles. It's because we buy toys that make our activities outside of work more attainable and more fun.
2019 Chevy Silverado
The all-new 2019 Chevy Silverado has an optional V8, which displaces 6.2 liters. In addition to its performance, the High Country edition of the Chevy Silverado includes a two-speed transfer case, automatic stop/start, dual exhaust, body color bumpers, LED lighting, and leather seats. The base price is $57,795.
2019 Ford F-150
While 2018's F-150 was widely critically acclaimed, there were a few updates made to the 2019 model to create an even better driving experience. Their Raptor-spec twin turbo 3.5-liter EcoBoost boasts 450 horsepower and 510 pound-feet of torque standard for the Limited Model. At a base price of $72,055, the Limited Edition offers a number of creature comforts in addition to its powerful performance.
2019 Ram 1500
If this is your first pickup truck, it's important to understand how a vehicle of this size and function drives. Due to its size and weight, it does take some getting used to moving a vehicle that big. Like any car purchase though, the more you drive it, the more natural the handling will feel. In addition, if the driver does not carry any weight in the bed of the truck, the back wheels may feel jittery when traveling over rough terrain (to an inexperienced pickup truck driver). For its relative size, the Ram 1500 handles considerably well compared to other pickups in its class. The largest difference you'll notice in handling and performance are related to the type of engine you choose for your truck.
The Ram 1500 comes equipped with a 48-volt mild hybrid powertrain system, which comes standard on all 3.6-liter V6 models and is optional for the 5.7-liter V8. In all tests done on the new model, the powertrain system performed extremely well with the new standard automatic engine stop/start feature.
For a truck this big and powerful, the EPA fuel economy estimates are 17 mpg in the city, 22 mpg on the highway, and 19 combined miles per gallon. The towing capacity allows for 6,000 pounds without significantly affecting the fuel mileage.
Best yet, the Limited Edition package version of the Ram 1500 earned the coveted title of Best Pickup Truck of 2019. If you're looking for the best, visit us at Allen Samuels Jackson to test drive your next truck today. Our selection of Ram 1500s is sure to impress you-and leave you wanting more.
Visit our showroom today.